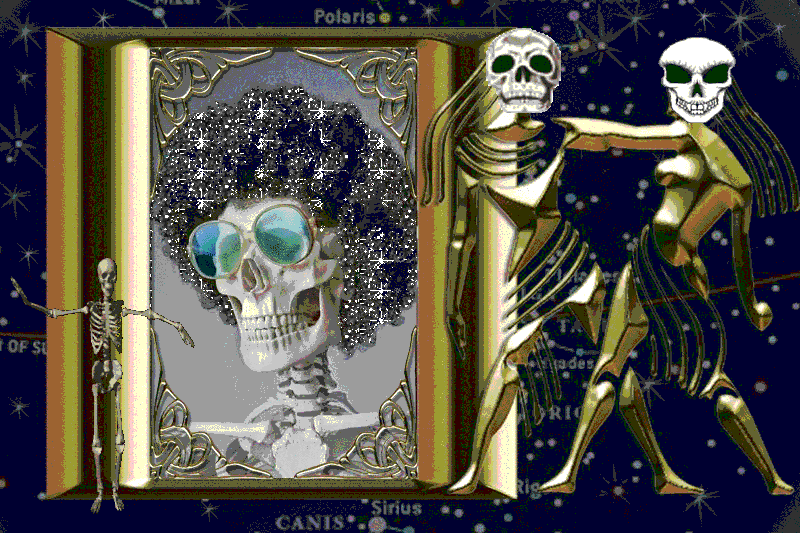 What can I say about myself? My full name is The Necromancer, Assmodius, Warden of the ╤╟╬╗╓┘┘ Gates Preeminent, but my friends call me The Necromancer, Assmodius. I'm a Gemini, Libra moon, Scorpio rising.... 92/6'1"/27 lbs/bi. I'm a dreamer, a romantic, a grade Œ telepath with a focus in metals, and a seven-star adept in Humological Necromancy. A quick study, I've already achieved full skeletonization and at a mere 92 years I'm wise for my age and up for anything;). At the risk of sounding like a cliche, I love night-time cemetery walks, but variety is the spice of undeath and I'm just at home at a disco or the beach.
The first thing people usually notice about me is my hair. I'm one of the lucky few to complete the seven Necromantic Star Trials and keep my hair, let alone have it looking this good. Other fun facts about me include that I have an extra rib and have held the overall land speed record for forty-seven years.
Send me an email if.....
you're looking for a little excitement.
you love to travel.
you think you can handle a little trouble.
you're passionate about racial and economic justice and direct action.
you're a romantic, and a little adventurous in bed ;)
you're open-minded about disagreements with the law.
you're uncompromising, a big dreamer, and can handle a big personality.
Unfortunately I'm wanted in connection to a somewhat high-profile kerfuffle that took place in 1963. At the time I was going through something of a political wild card and party animal phase (what can I say? I'm a gemini!) but we can talk about that a little more over dinner and drinks sometime ;). Location is no issue as I've mastered Translocational Manifestation. Shoot me an email with a recent pic and a description of your fantasy first date and we'll talk about making our dreams a reality. I can't wait to hear from you....
Note from the Wizard Seeking Wizard admins: In cooperation with the FBI we are notifying users that The Necromancer, Assmodius is wanted for Disturbing the Peace by Creating a Scene; Illegal Possession, Theft, and Trafficking of Human Remains; Telekinetic Manipulation of a Projectile for the Purpose of Enhanced Lethality; Third-Degree Necromancy for the Purpose of Subverting the Will of the American People; Conspiracy to Commit Murder; Murder of a Dallas TX Police Officer; Treason against the United States of America; First Degree Murder of the President of the United States of America; Domestic Terrorism; and Arson. If you make, or are presently in, contact with The Necromancer, Assmodius, contact the FBI through their tip-line. There is a cash reward for information leading to the arrest of The Necromancer, Assmodeus.